DOMINIC WHITE, CFA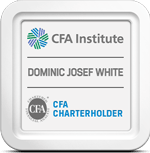 I founded this business to provide a service that focuses on the things that matter to your outcomes.
You can find out about my formal qualifications and relevant experience on Linked-In if you are interested. The truth is all my skills, knowledge and experience are meaningless unless I have the intent & the integrity to use them to deliver a service that adds value to you.
Our promise to you:
All advice & management we provide to you is designed to help you achieve your investment & financial goals.
All the products included in your solution are what we believe are the best products for the job.
We will tell you about any fees we earn from providing this service.
We will tell you of any conflict of interest we may have in providing this service.
In so far as possible your solution will reflect how we manage our own finances.